[Download] The KickDrums Lollapalooza 2011 Mix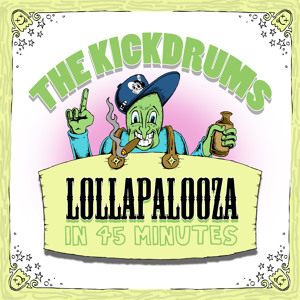 Lollapalooza is just around the corner! This time next week, thousands of lucky showgoers will have descended upon Grant Park in Chicago, IL to spend three full days of non-stop rocking out. After much success with their Coachella mixtapes, our dear friends The Kickdrums decided to get you "in the mood" for some Lolla hangouts this time around. Below you can have a listen and grab 45 minutes featuring the cream of the crop in the Lolla lineup, from The Kills to Kanye and everything in between.
Have a listen to the mixtape below and take a peek at the tracklisting and where to download the mixtape after the jump!
The KickDrums Lollapalooza in 45 Minutes by The KickDrums
Ryan Leslie - The Glory
The Kills - Sour Cherry
Eminem X The KickDrums - Forever
The KickDrums - Perfect World
Smith Westerns X Purple Ribbon Allstars - Up on the Weekend
Skrillex X Young Jeezy - Scary Monsters and Nice Sprites (Let's Get It)
Death From Above 1979 X Lil Jon - Lil Girl
The 2 Bears - Go Outside
Collie Buddz X Rick Ross X Lil Wayne - Blind To You John (Protohype Remix)
Skyler Grey X Eminem - Dance Without You
Eminem X Glitch Mob - Drive It Like You Lost Yourself
Pretty Lights X BIG - Empire State of Juicy
Kid Cudi - Sky High (prod by The KickDrums)
Hot As Sun - Hot for the Teacher
Phantogram - Mouthful of Diamonds
OnCue - On Your Own Supply
The KickDrums - Trouble Coming Everyday
Coldplay - Trouble (Big Beat Remix)
Ellie Goulding - Lights
Cee Lo Green - Bright Lights
The Cool Kids feat Mayer Hawthorne - Swimsuits
Ratatat X Kanye West - Neckbrace Boy
Lykke Li - I'm Good I'm Down
Dom - Living In America
Foster the People - Pumped Up Kicks (The Knocks Remix)
Joy Formidable - Whirring (InnerPartySystem Remix)
Foo Fighters - Rope (Deadmau5 Remix)
Kid Cudi - Embrace the Martian
The KickDrums feat GLC - Colors (Official Remix)