Friday, January 7, 2011 at 5:53AM
Last night
Young The Giant
appeared on national TV for the first time in the form of Jimmy Kimmel's late night show. They performed "My Body" and "Apartment" off of their self-titled album which you can pick up over
here
. Up at the top you can see them perform "My Body" and after the jump see them belt out debut single "Apartment". Once again thanks to our friends over at
Audio Perv
for the video. Head on over to the bands
official site
to pre-order the vinyl and keep up to date with tour dates and the like.
Shey
|
tagged
Jimmy Kimmel,
Young The Giant
|
Post a Comment
|
Tweet
Thursday, January 6, 2011 at 10:20PM
Tied for 5. Air - Love 2 [Buy CD]
I had approached this record with caution because Pocket Symphony had fallen so flat of what I expected to follow up an album like Talkie Walkie from a band as epic as Air. Thankfully, what we got this time around was an album that picked up right where TW left off. Love 2 is an album that you love to love. It's romantic and dreamy in all the good ways that TW was but takes it to the next level. You will find your mind drifting away to a better place courtesy of songs like "Sing Sang Sung", "So Light Is Her Footfall" and "Do The Joy". This French duo have truly mastered weaving wispy electronic melodies into a breathtaking 46 minutes of pure bliss. - Kibbe
SKoA
|
tagged
AIR,
Arcade Fire,
Deftones,
Gorillaz,
Kanye West
|
Post a Comment
|
Tweet
Thursday, January 6, 2011 at 2:57PM
Man, Jamie xx is everywhere at the moment. We gave you a listen to his track with Gil Scott-Heron not too long ago and now you can take a listen to this awesome mix. Recorded last night as part of the 'In The Mix' for Benji B on BBC's Radio One it features a range of tracks including his own and the likes of James Blake, Beach House, Adele and Skream. Check it out in full below via Huw Stephens' twitter. He did post the Pinglewood link but has since replaced it with an official BBC link. Funny that.
Jamie xx - In The Mix For Benji B on BBC by Some Kind of Awesome
Shey
|
tagged
Jamie xx
|
Post a Comment
|
Tweet
Thursday, January 6, 2011 at 2:42PM
Take a listen to another Jamie xx track taken from his new project which is set for release on February 22nd featuring the legendary Gil Scott-Heron. The project, titled We're New Here will come in a variety of packages. Including a heavy weight pink Vinyl, a heavy weight Green option will contain an instrumental version of the album.Oh and I almost forgot to mention the two very limited edition photographic print vinyls! Now if that's got you a little excited head on over here to find out more and pre-order yourself a copy. Enjoy the track below and if you missed our last taste of this, titled "NY Is Killing Me" you can still hear that too over here.
Shey
|
tagged
Gil Scott-Heron,
Jamie xx
|
Post a Comment
|
Tweet
Thursday, January 6, 2011 at 12:24PM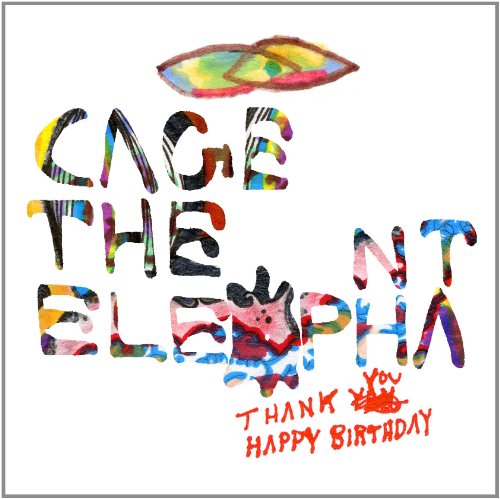 Cage The Elephant's forthcoming LP Thank You Happy Birthday caught a case of the MySpace Exclusives, for those that are new to SKoA thats what we call a leak. You can hear the full LP in the player below before the record officially drops on Tuesday, on January 11, 2011. Enjoy!
Rocko
|
tagged
Cage The Elephant
|
Post a Comment
|
Tweet
Thursday, January 6, 2011 at 11:48AM
Check out a performance from Iron & Wine above in which we get to see a preview of the new album. Well most of it. Listen to the full preview of Kiss Each Other Clean above and take in all of that epic beard! The album is set for release later this month and will be our first taste of new material in almost 4 years following up 2007's The Shepherd's Dog. Performing for New York radio station WNYC the show took place in venue The Greene Space and definitely is somethign worth a watch on this Thursday afternoon. You can aso check out some more details over on NPR.
Just before Christmas we also had a taste of what was to come in the form of free download, "Tree By The River" which if you missed you can grab over here. Kiss Each Other Clean is set for release on January 24th in the UK and the 25th over in the States so mark your diaries.
Rocko
|
tagged
Iron & Wine
|
Post a Comment
|
Tweet
Thursday, January 6, 2011 at 9:29AM
Brooklyn act Twin Shadow dropped by Daytrotter and performed several tracks from his debut record, Forget. Below you can take a listen and grab yourself "Shooting Holes" and if you head on over to the Daytrotter website you can grab yourself the whole session for your listening pleasure. If you like what you hear you can pick up the full debut over here.
Twin Shadow - "Shooting Holes" (Daytrotter Session) by Some Kind of Awesome
Shey
|
tagged
Twin Shadow
|
Post a Comment
|
Tweet
Thursday, January 6, 2011 at 4:35AM
A Day To Remember have unveiled their new video for the first single from new album What Separates Me From You which is out now for you to pick up. Check out the video up top. They have also set out a pretty large tour for this year and you can check out the dates after the jump.
Up top in the video you can see the band performing the track with a little help from just about everyone else on the scene! Including the following; Crime In Stereo, Tom Denney (A Day To Remember's former guitarist), Veara, Bring Me The Horizon, Silverstein, Parkway Drive, The DevilWearsPrada, AndrewWK, Pete Wentz, Millencolin, As I Lay Dying, The Red Chord, August Burns Red, Comeback Kid, Seventh Star, Maylene & The Sons of Disaster, Architects, MxPx, Your Demise, Trivium, Pierce the Veil, The Acacia Strain, This Is Hell and Set Your Goals. See how many you can spot!
Shey
|
tagged
A Day To Remember
|
Post a Comment
|
Tweet